Exciting News Glendora Soccer APPROVED for playing again...


Re-scheduled to start Winter Season 2022

___________________________________________________________________

NEW GLENDORA SOCCER ADULT COED & WOMEN'S

WEBSITE LINK:

CityofGlendora.org/Recreation| Facebook | YouTube


REGISTRATION DIRECT LINK:

GLENDORA SOCCER ADULT COED AND WOMENS REGISTRATION

Registration opens August 16th for Fall Season. Fall season starts: Coed September 11th, Women's September 13th.

Annie Warner
League Coordinator
Glendora Soccer Adult Coed & Women's

awarner@ci.glendora.ca.us


Information on new registration site:

You can either click the website link & search for Glendora "Adult" Soccer or click the direct link.

Once you click the link to register all coordinators/managers and players will need to create a log in & password. You will need this to register & play.

There will be a separate registration page link for Team Coordinators/Managers and a separate page for players.

The link for team managers will require a team name and payment at the time of registration.

Once the team has been registered and paid a link for the players will then be set up for players to register to their team.

There will be no exceptions to register a team, all payments must be paid when registering a team by the Coordinator/Manager by the deadline.

(the team fees will remain the same. There are many ways to collect your fees ahead of time Apple pay, Venmo, Zelle, PayPal, thru your bank app etc.)

The player link will have a drop-down box for team name and no payment due at the end of their registration page sign up.

(ALL PLAYERS MUST REGISTER BEFORE THEY PLAY.)

Team Managers/Coordinators will be sent a list of their Rosters.

There will be a deadline for Teams to be added for the season. Registration will close for Managers link by a due date. Once it is closed no teams will be added. So, make sure to register your team & make the payment.

The players registration link will remain open for the season to add additional players during the season.

Team Coordinators/Managers will need to take a copy of their Roster/registration to their matches to give to the refs.

(any player not registered will be dropped from the league and team with unregistered players will forfeit with possible team suspension.)

It is up to the Coordinator/Manager to make sure their players are registered.

All team Coordinators/Managers and Players will be required to upload a photo directly on their registration page.

Players will contact their Coordinators/Manager directly with any questions or issues.
Coordinators/Managers will contact Annie with any questions or issues.
Refs will contact Ref Association & Ref Association will contact Annie with any questions or issues.

The new Website will include schedules and stats links and more.

Remember the new season will include the remaining games from last season.

EVERYONE WILL NEED TO REGISTER TO THE NEW REGISTRATION TO FINISH THE REMAINING GAMES.

(game schedule subject to change)

COED…
9-11-21 10 BYE BARCA
5:30 RED DEVILS VS JET PACK
7:00 CLUB de CUEROVS VS CRASH & BURN
8:30 GRACE UNITED VS CHIRAQ FC

9-18-21 11 BYE CRASH & BURN
5:30 CHIRAQ FC VS BARCA
7:00 RED DEVILS VS CLUB de CUEROVS
8:30 JET PACK VS GRACE UNITED

9-25-21 12 BYE CHIRAQ FC,RED DEVILS & JET PACK
5:30 BARCA VS CLUB de CUEROVS
7:00 GRACE UNITED VS CRASH & BURN



WOMEM'S…
9-13-21
7) 7:00pm BLACK vs YELLOW
8:30pm WHITE vs RED

9-20-27
8) 7:00pm WHITE vs BLACK
8:30pm RED vs YELLOW

9-27-21
9) 7:00pm RED vs BLACK
8:30pm WHITE vs YELLOW


as always thanks for playing...
Glendora Soccer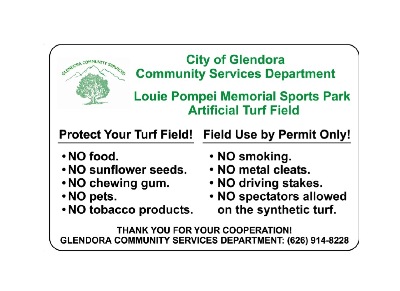 Park Rules & Regulations are as follows: Park closes at dusk, alcoholic beverages are prohibited, skateboarding, roller skates, rollerblades or similar activity is prohibited, motor driven vehicles are prohibited, dogs and other animals are prohibited, golfing is prohibited, dumping of trash or liquids is prohibited, graffiti is prohibited, loitering after hours is prohibited. GMC ORD. 8.08.07, 9.20.010, 9.20.040, 9.20.060, 10.17
www.glendorasports.net

ALL PLAYERS MUST BE REGISTERED BEFORE THEY PLAY.


Thanks for Playing!!!



Soccer Friends
This is a RECREATIONAL LEAGUE we are here to have FUN. Our Focus is on a Fun, Safe, Recreational Atmosphere. Good Sportsmanship and setting an good example for our Youth is a Priority. There are children at the games, maybe yours (never the less, they are someone's), watching you play, so please be mindful of your behavior and language.

Eveyone in this league Must work the next day, Please keep that in mind for your safety as well as others.


Thank You Glendora Soccer